CLASSROOM DISCUSSION GUIDE


FUNDING PROVIDED BY
Toyota Motor Manufacturing, Kentucky, The Gheens Foundation, Frontier Nursing University, Jerry & Madeline Abramson, Kentucky Arts Council, Carla Wallace, The Honorable John Yarmuth and many other friends of the Commission.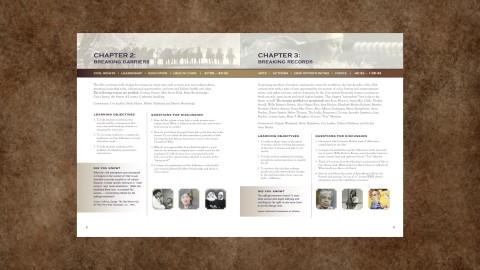 AS SEEN ON
KENTUCKY EDUCATIONAL TELEVISION (KET)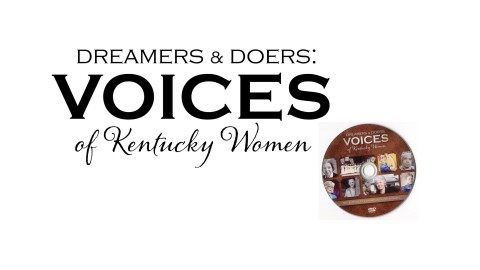 CLASSROOM DISCUSSION GUIDE
Download the guide from this page
CLASSROOM DISCUSSION GUIDE, a companion tool to Dreamers & Doers: VOICES of Kentucky Women ORDER THE DVD

This classroom discussion guide is made available in hopes that

Dreamers & Doers: VOICES of Kentucky Women

will serve as a historical resource and learning tool for students for many years to come. The Kentucky Commission on Women has taken great pains in choosing the women to profile in the film, but this is by no means an exhaustive list. There are yet many Kentucky women whom educators can add to lesson plans for additional study.

Depending on the maturity level of the students in your classroom, as well as the particular lesson event, it may be more advantageous to show the film in three chapters, with discussion after each. There is a backdrop of chronological events in the film, however many of the women's achieve- ments span over several decades resulting in an overlap of the stories in many instances. You will also find some of the profiles linked or grouped together for various reasons.

Questions for Discussion are designed to motivate discussion (1) about the film, (2) the women profiled, and (3) the periods in which they lived and/or served. Teachers should feel free to use all or any part of the questions, the list of resources and to add to the learning objectives. Suggested Activities are merely to spark your own creativity! We are confident that year after year you will create dozens of activities to fit into your lesson plans and events. Additional Resources lists are provided to ignite further interest in the history of Kentucky women.